Learn about the internships available across The Adecco Group
Opportunities are available in several areas, including:
Sales and Recruiting
Finance and Accounting
Information Technology
Human Resources
Data Analytics
Procurement and Real Estate
Rick Management
Legal

Corporate
We aren't the global leader in HR Services for nothing.
Join us and you'll be working with a forward-thinking, pro-active, and enlightened organization that doesn't just look to the future but creates it. The workplace landscape is changing fast. That's why we're already there, delivering trailblazing initiatives and working with global organizations to ensure that the future of work is accessible and open to all.

Adecco General Staffing
This is about more than our company. It's about our people.
People with a passion for helping others. People who are experts in their roles. People who learn from setbacks and celebrate successes. People who absolutely, 100% love what they do.

Modis
In the converging world of IT and engineering, Modis pioneers smart industry.
Modis delivers cross-industry IT and digital engineering expertise to accelerate innovation and digital transformation. By combining a unique service offering of Tech Consulting, Tech Talent Services and Tech Academy, Modis enables businesses to progress, scale and perform.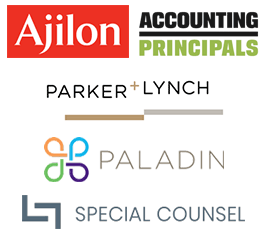 Talent Solutions
Ajilon, Accounting Principals, Parker + Lynch, Paladin, Special Counsel
We are leaders in administrative, non-clinical healthcare, human resources, supply chain & logistics, finance & accounting, marketing, creative, executive search and legal recruitment.
We work with candidates and clients daily to find the right balance between skills and requirements, career goals and business objectives, personality and team culture for both temporary and permanent roles.